PR Center
RIU launched packaging intermediation platform 'Pojangposs'
2020-12-01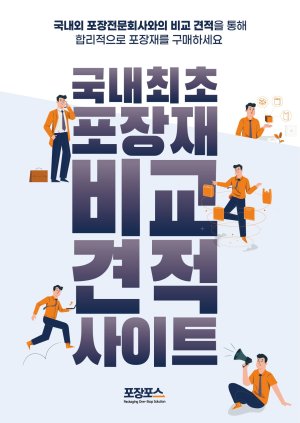 POJANGPOSS will allow small business owners to quickly produce packaging materials that are perfect for their products, and packaging companies will be able to easily find their customers.
POJANGPOSS is a brokerage platform that connects consumers who want to purchase packaging materials and producers of packaging materials, and customers can request
estimates of 150 packaging materials in 40 fields, including food, medicine and cosmetics, through a few clicks.
If you are not sure what packaging materials you need, you can consult with a packaging expert to get recommendations. When a customer posts a picture of the product they need,
a packaging company that manages the packaging material provides an estimate within 24 hours. Currently, 100 domestic and foreign packaging companies are participating,
and the number of companies participating is increasing rapidly.
Until now, SMEs and self-employed people had to stack packaging materials for months and years due to the minimum order quantity (MOQ). However, POJANGPOSS will allow users to
produce packaging materials only as much as they need after receiving comparative estimates from packaging companies that are suitable for small purchases.
news article URL: http://www.fnnews.com/news/202012011523000131